Scan to 12:20 in the timeline to here from Chef Jerome.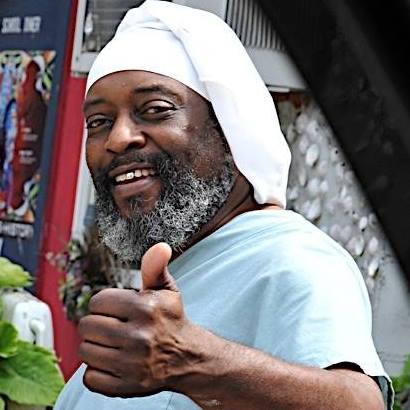 NEW HOURS as of May 30,2023

"Trust your Chef"

Mention us! @OldSchoolDiner #oldschooldiner
NEW HOURS!
FRIDAY 5:00 – 10:00 PM
SATURDAY 12:00 – 10:00 PM
SUNDAY 12:00 – 6:00 PM
Closed MONDAY-THURSDAY
CALL 912-832-2136 or 912-270-4530
Chef Jerome's Old School Diner.....where everybody is family!
Chef Jerome's Old School Diner…..where everybody is family!
Address:
1080 Jessie Grant Road, NE Harris Neck, GA 31331
We will open for a party of 15 or more,  just call us 72 hours out or more for us to open.
We have do have 
take out service!
Have a look at our menu, give us a call with your credit or debit card in hand and place your order. Call us when you arrive and we will bring your order out,  just let us know you would like this service.
The dining room is open and we ask you to seat your self as you feel comfortable with your fellow dinners. Safe Serving and Safe Dinning practices are in effect. We have spaced the tables and no more than 10 people seating in a group, please.
We Always Feature Daily Fresh Local Seafood and More. If it is not fresh we don't serve it!
Located a quick 50 miles from Savannah and Brunswick on Georgia's Central Coast in North McIntosh County Georgia.
If any of our customers ever have a problem, please ask to Talk to Chef Jerome right away! No matter what! 
Well worth the drive from anywhere!
We now take all credit and debit cards at The Old School Diner. 
Cash tips are appreciated!!
Reviews On Yelp!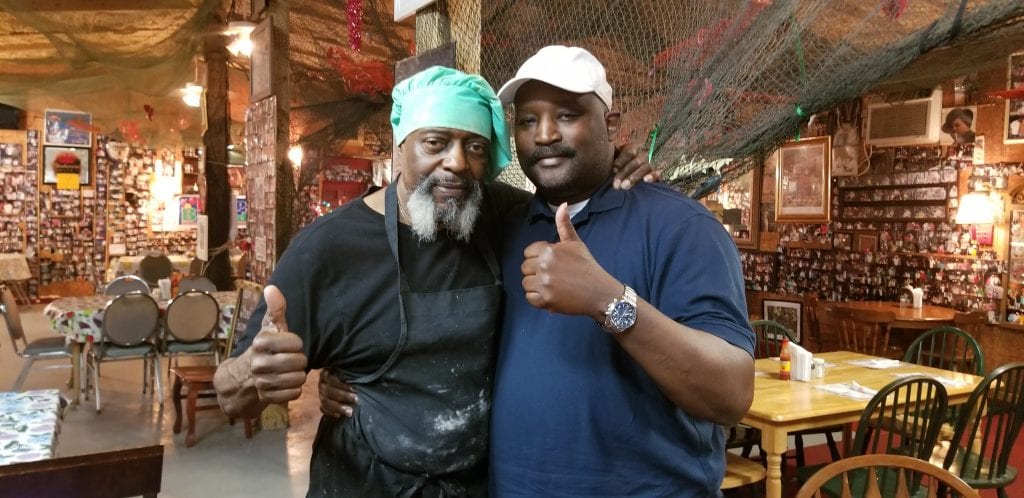 Chef and LeRoy
"All I can say is DELICIOUS, the food was Great. The dessert was like heaven, just close your eyes and enjoy. We definitely had more food than we could eat. The best part was Chef Jerome. His love for food, his personality and his conversation made us feel very much like family." From our Facebook Page.
Call us anytime! 912-832-2136
Recently, Chef Jerome had a visit from Vivian Green…..here is the video shot at the Old School Diner this summer!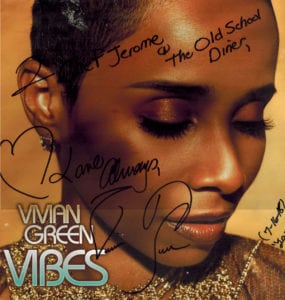 Her YouTube Channel can be seen here.

Got a party of 6 or more, give us a call and we will save you a seat!
Visit our Facebook Page.  We have over 8000 fans!
Recent Facebook Reviews…………..
"Top five fav of ALL time … and we eat out a lot!"
"What an awesome place… awesome peeps…
Chef Jerome….Mama Mary…. and super Thomas…. what a wonderful place for a family gathering….
"
"I really enjoyed the Wheelchair Platter and Chef Jerome really made our platter with Love"
"The food was delicious & it was quite an experience! Chef Jerome & staff were great!"
A special 84th Happy Birthday to Ms. Joan Hobbs of Midway. See you next year!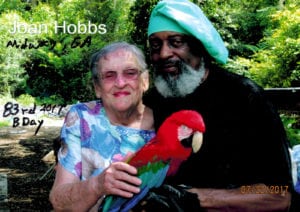 Read our customer and publication reviews.
And be sure to watch our Videos.
Visit our Family Photos.  We have over 6000 photos on our walls!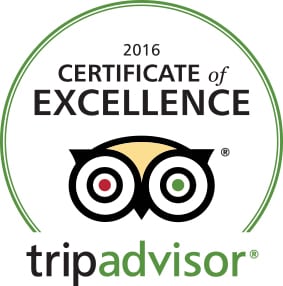 Also for  2015, 2017, 2018, 2019, 2020, 2021, and 2022!
We are rated on Yelp and Trip Advisor with an average rating of 4.4 stars or better!
See our reviews on Google. 4.5 Stars average!
If you are not happy about anything at the Old School Diner, ask to speak directly to Chef Jerome anytime.