Here are some published and website reviews about the Old School Diner, enjoy!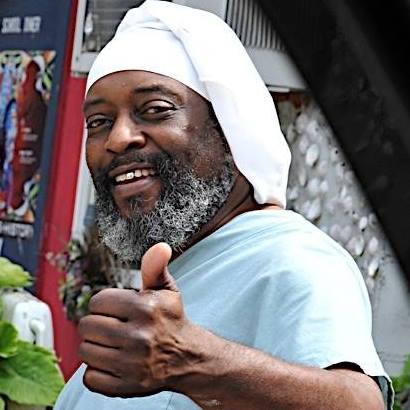 Some Bloggers remarks….
http://jim-and-kim.blogspot.com/2013/03/chef-jerome-and-old-school-diner.html
http://myshadeofcrazy.wordpress.com/tag/old-school-diner/
http://www.neatorama.com/2011/01/05/the-old-school-diner/
---
[pdf-embedder url="https://oldschooldiner.com/wp-content/uploads/2018/05/Old-School-Diner-Libery-County-Mag-Spring-2013-Small.pdf" title="Old School Diner Liberty County Mag Spring 2013 Small"]
WE love to get email from our Family and we would like to share some of those here. Use our contact page to drop us a line or email info@oldschooldiner.com
Email from our family …
Looks like a hole in the wall from the outside, but opens up to a funky, eclectic interior. Wonderful food with a Cajun flair. Chef Jerome goes out of his way to make everyone feel welcome. He starts you out with the best hush puppies I've ever had. The food takes a little longer to arrive since Chef Jerome is preparing from scratch. Chef pops in repeatedly to make sure everyone is having a good time and has enough to eat.
From the carpeting that lines the parking lot to the hundreds of pictures that give life to its interior walls, much can be said about the eclectic look of the Old School Diner.
But it is more than just the ambiance that lures Coastal Georgia residents and tourists to the hidden gem. And while the perfectly cooked shrimp, saucy ribs and delectable hush puppies are what people hem and haw over, it's the man behind the food who truly symbolizes the restaurant's soul. 
The eatery is nestled along the bend of the South Newport River, not far from the pristine Harris Neck Wildlife Refuge. Chef Jerome Brown doesn't just think of his diner as a place to have a meal. It is his home away from home, and — should they need a special sanctuary — his customers' home as well. Those who frequent the restaurant are not just closed-out bar tabs and paid receipts — he sees them as members of his family.
Born in Waycross, Webster Tyrone Jerome Brown cultivated his cooking skills at the Buccaneer Club in Townsend. He still was a teenager when he got the gig, which he worked for 31 years.
Feeling he had learned every aspect of the job but was not given the opportunity to advance, Chef Brown left and briefly traveled around the world cleaning boilermakers. He also worked for a wood company in Florida. The ability to work with his hands is a gift from above, he says, and his passion to leave an artistic imprint on the world was apparent when he settled in McIntosh County and opened the diner in 2005.
"I'm an artist, and this is my art work," he says, scanning the hodge-podge of movie posters, drawings and paintings inside the main dining room. The exterior is bright pink, and a collection of hub caps and Georgia license plates adorns the building, making it look like an antique store. Dated farm tools and old pans hang above the entrance. 
And, of course, there is the parking lot — a mish-mash of carpets thrown across the dirt driveway cover every inch of visible space. 
"A lot of people want to know about the carpet," he says with a slight grin. "It's simple. I don't like sand in the building, and for the women who wear high heel shoes … they won't get stuck in the sand and twist their ankles and fall and hurt themselves. And if they happen to fall on the carpet, they are less likely to get hurt because the carpets will cushion their fall."
Brown says he uses the skills he picked up at the Buccaneer Club and adds his own flair to the recipes on his menu. 
"I started out with a two-car garage, one office, one dining room and no kitchen. I had two little fryers with two small baskets where I would cook up my French fries, chicken, shrimp and whatever. I branched out and built this room here, and I named it the Ben Affleck room because he was the first celebrity that came," the chef says, all while stroking his beard and basking in the warmth of his wood-burning fire place. He relaxes on a sofa next to the fire during a rare break from his work routine. 
Chef Jerome says the actor's visit in 2010 was an answered prayer and paved the way for the continued success of the diner. Since then, it has undergone two expansions and construction of an outdoor dining gazebo, which he built himself using pieces of wood form an old floating dock someone planned to discard. 
Affleck placed the little diner on the map and still occasionally drops by for dinner when staying at his Hampton Island vacation home in Liberty County, Chef Jerome says.
But it's his loyal customers — who have spread the word about the chef's unique style, delicious cooking and warm hospitality — for whom he truly feels blessed.
"Money doesn't make me, everyone who comes out here and enjoys my food — that is what makes me," he says. "When folks don't come to visit, it makes me sad."
He steps into the kitchen and begins to prepare some shrimp. The chef works alone when it comes to his menu items, and he has his reasons. 
"I don't trust anyone else cooking my food," he says with a laugh. His work days begin at 4 a.m., and he doesn't mind putting in the long hours.
"I like to come in early and get the pies and stuff out of the way," he says. "I don't want people to be around me when I'm doing my thing — they want to ask questions, try and get my secrets like, 'What did you just put in there?' And my response is always 'A little bit of this and a little bit of that.'"
The diner also is his private chapel.
"This place is my peace of mind, my spirituality," he says. "When I get lonely or feeling down, I just walk in here and look at the walls and look at the faces and look at the smiles … I look at those and I know I'm doing something right."
Another thing he says he did right was marrying his wife of 40 years, Lauretta Brown. She was the one who convinced him to open the diner and go back to what he does best — cooking.
And it helped him heal as the customers began to pick up pieces of his heart once held by others.
"I don't care if the world knows, but most of my immediate family threw me away," he says, his smile slowly fading. "Hardly any of them are around me because I cut them off. I said enough is enough — my wife keeps telling me you can't save the world … some of my family was just a bad influence, and I trusted too many of my family members … I adopted the community. The people who come here are my family."
So he threw his passion and soul into the diner and tempts his newfound family with mouth-watering meals fit for a king and big enough for a royal court.
Inside the main dining room, the chef points out a cluster of photos.
"I enjoy meeting other people. I try and come out here and greet every customer, and I ask my waitresses to take all the customers' pictures, especially if I'm busy," he says, adding that he tries to pose with all his customers unless he gets stuck in the kitchen. "I want to know who came to the restaurant and I take the pictures so I can remember their faces. I remember one gentleman who came in around two to three years ago and I was able to tell him where he would be able to find his picture hanging on the wall."
He points out a wheelchair positioned in the corner of the dining room and says most people need it after they order his infamous wheelchair platter. The platter serves a party of two or larger and consists of whatever the chef chooses.
"Trust your chef," he says. The motto also is on the menu, and many follow it. They know the platter is bound to include a little bit of everything on the menu. Should a patron leave any room, the chef will come back to the table, pull up a seat and offer his dessert menu for the day.
"We had two couples come in, and they sat at this table by the fire. They ordered the wheelchair platter, and the one guy had two pieces of my strawberry cheesecake, and when he got through with that last piece of cheese cake, he had to come and lay down," Chef Jerome says, laughing. "He sat right here by the fire and all of a sudden, he went to sleep, and that was beautiful. I like for folks to come here and feel like they are at home. I tell a lot of my customers, 'If y'all don't feel like driving home, y'all can go to my house,' and I really mean it. … That's how I roll and that's not going to change."
Author Patty Leon, first printed in Liberty Life Magazine Spring 2013 edition, reproduced here with permission by author, copyright protected.
Updated due to recent visit.
---
When we pulled up to the restaurant, I was like "oh heck no"! Make sure you view the pictures on-line before going. After you view them, multiply the craziness by 100. But don't be fooled by the outside, go inside for the best food and experience of your life! Chef Jerome and his staff makes you feel like family. This is a must see and a must do! Don't ride past exit 67 off I-95, without stopping by. If this place was in Savannah, it would be on the list of the top 5 tourist attractions.
I have to share our dining experience tonight. My son asked if he could take us to dinner tonight. Of course we said yes. A few years back we tried to find Old School Diner in Harris Neck and only got lost in the woods. We had reservations for 7pm. We finally got out of Bwk at 6:30 and it was a 45 min drive. We ran 90 to get there on time. We drove down long roads and finally got to our destination, and as we pulled up my son said mom, turn around and let's get out of here quick I'm freaking out..LOL..We parked and got out walking over lot's of carpet as there drive and walkway, wondering what in the world they had carpet outside for. We entered the building and was in a room with no one there. A few seconds later a sweet lady named Mary asked if we had reservations and we told her that we did and she turned around and asked us to follow her. We walked down long dark hallways and then entered the main dining room. Full of well dressed people. Not what we were expecting to see from the looks of the outside. We sat down and Mary quickly asked what we would like to drink. We gave her our drink order and before we could get comfy our drinks were served" Sweet Tea". My son decided to have gator tail for an appitizer. Good choice. I have eaten my share of gator tail being my grandfather owned an alligator farm. The chef knows how to fry up some gator. My hubby ordered a ribeye with fries. My son and I ordered the "Wheelchair platter". Wondering why they call it a wheelchair platter we couldn't say no. The chef decides what he will fill the platter with and what he puts on the platter is what you'll get. Fried grouper, crab balls, shrimp, ribs, fries, potato salad, oysters. We thought we could eat the entire platter. We were so wrong. Oh and a huge basket of hush puppies" The best ever". Within 10 mins we were unbuttoning our pants and breathing hard. I have to say I was WOWED by this food. The best food I have ever eaten in my life.. True soul food. It took us 1 1/2 hrs to make it home because I was too full to push the gas pedal. I will be going back next Friday night with friends and family and if you've never been, you're missing out on an Amazing experience and awesome food. No complaints at all. We love you Chef Jerome. Oh and the carpet must be for when you fall out of the door from being so full you'll have somewhere soft to land. Simply Amazing !!!!
Okay, this was by far my most complete and satisfying dining out experience ever. From the first "Welcome family!" spoken by Chef Jerome to the hot, delicious hush puppies, to the incredibly delicious Wheelchair Platter of everything seafood and more, you can't beat an experience like this. If The Old School Diner was located in downtown Savannah, Chef Jerome would have his own TV show. Thanks for making me feel at home Chef Jerome.
I will be back……Often!
Dear Chef Jerome, My buddies and I were in your spot last Man I have been eating in places all over the world and I must say your place was truly a dining pleasure. Our friends father in law Jessie brought us there to check it out. Wishing you continued success and blessings. Any time I am close by, you can bet your bottom dollar I'll be coming through. Reggie
Dear Chef Jerome,                                 
First of all I can say is you are awesome and so is Mrs. Brown. Thank you for hooking us up once again with a fantastic meal. No one can hold a candle to your cooking it is that great. Oh that flounder was bigger than the huge plate and the ribs just fall off the bones. Fan Tail shrimp cooked to perfection then throw in some fried oysters along with the best tasting hush puppies ever. A meal fit fora King!   Then the peanut butter cheese cake is sinfully good and thatstrawberry lime cake. My mouth is watering . Seriously the best food in allof Georgia. Your waitress Caroline know her stuff. We will be back soon andI sure hope she will be working. Thanks again for the best meal(S) we have ever ate! Take care and God bless you.
Letha Crisp
May 14, 2013
Dear Chef Jerome,
We enjoyed our visit on Mother's Day. My wife can't stop talking about how great of the time that we had, and the Magic Man was great as well. But most of all, the food was excellent, we will visit again, and I'm spreading the word about "Old School Diner".
Kevin and Wanda
May 6, 2013
Dear Chef Jerome,

The best fried shrimp I have ever eaten!
Thank you for an excellent and unique evening of dining!
Cathey Farley
March 29, 2013
Chef,
We enjoyed our visit last Saturday. It was a first time visit for our grand-baby, Haven. She loved her hamburger and fries and especially those award winning "hush-puppies".
Can't wait to come again and get the "wheel chair platter."
We Trust The Chef,
Tommy Long and Kim Smith
March 9, 2013
Becky and  Jason
Dear Chef Jerome, me and Becky had a great time last night and the food was the best seafood I have eaten yet! thanks for the over the top hospitality! Enjoyed looking at all the pictures and being social with all the guests. We will surely be back and we will certainly spread the word!! see you again real soon!!
May 2, 2012
Dear Chef Jerome,
Just wanted to say how much we enjoyed our visit this past weekend. The atmosphere was so relaxing and unique. The plentiful Wheelchair platter was the best. Thank you for the personal welcome, it made us feel at home. We
will be back again real soon.
John And Lynda
Feb 16, 2012 (from our Facebook fan Page)
We fell in love with Destiny tonight! What an amazing little gem you have, thank you for letting us come see ya in the kitchen, you made my son's birthday memorable! Much love and love that once your there…your FAMILY!
I have visited the Old School Diner it was the dining experience of dining experiences. Chef Jerome is real. I admit that at first glance I looked at the party I was with and said There is no way I am going in that place and you guys are talking about eating there. And much to my surprise the experience was amazing as was the food and the atmosphere. I agree just "trust your chef." I have talked about the Old school Diner to friends and family. I have never been to a place where though I am quite sure busy the chef comes out to personally take pictures with and greet the customers or "family" as Chef Jerome says. Chef Jerome is truly an inspiration to those who he has shared his story.
Sandra Gant
Chef Jerome,
I want to thank you for the most wonderful experience. I travel the world over and have never had such a wonderful experience in a restaurant. Your attitude, food, staff everything was perfect. My taste buds had the most wonderful orgasm over your food. The only thing I missed was a hug from
you. (I hope you wouldn't mind hugging a man)I will be back very soon and expect a double big hug.
Rome
October 3, 2011
Dear Chef Jerome,
I just wanted to thank you for making my Mother's 86th birthday some morable. The food and the chocolate cake you make is the best I have ever had!
After eating your fried seafood, and tasking the "stuffed flounder" I don't want to eat anywhere else! Thanks for making all my family feel like a part of your family. 
Sincerely,

Shannon, Miss Chris and the rest of the family  🙂
July 22, 2011
Dear Chef Jerome,
It was a bit of a challenge for us to find your place but the meal made all the effort more than worthwhile. The dining experience was great and we loved it. We're recommending as many people as we can who visit the area to stop by. 
Thanks again!
June 19, 2011
Dear Chef Jerome,  I'm so glad we stopped by today and met you and your wonderful staff and family.  Your food is out of this world, but you are the best part!  We can't wait to come back and have been telling everyone about
you.  Keep it up!!
Todd and Ruba
————————————————————
June 19, 2011
Don't let the outside appearance fool "ya".  It's what's on the inside that matters.
Fun Times!
Great Experience!
Wonderful Staff!
Down Home Feeling!
Great Food!
Don't forget to a slice of that delicious key lime or strawberry cheesecake! They both ROCK!!!
Chef Jerome can throw down in his kitchen and he's awfully nice!
Old School Diner is AWESOME!
The Mainer Family
—————————————————————-
May 5th, 2011
Dear Chef Jerome,
My buddies and I were in your spot last Thursday May 5th. Man I have been eating in places all over the world and I must say your place was truly a dining pleasure.  Our friends father in law Jessie brought us there to check it out. Wishing you continued success and blessings.  Any time I am close by, you can bet your bottom dollar I'll be coming through.
Reggie
—————————————————————-
Dear Chef Jerome,  My brother, you are alwasy the epitome of excellence.  My two daughters really loved visiting with you on Sunday. All they could talk about was how good the shrimp and ribs were and how nice you were to take pictures with them.  Now, they have invited their Girl Scout troop from charlotte to come and visit your resturant at the end of the month.  You definitely know how to make everyone feel like family.  Always good talking with you.  Keep doing what your doing and let God keep using you and your awesome gifts.
Thomas
Fit For the King
—————————————————————-
April 1, 2011
Demerta wrote in…….
Dear Chef Jerome, I just sent an email to my friends visiting St. Simon because they wanted me to remind them where we had "our best time/meal" when we were in St. Simon in February. So Janet and Dan from Columbus Ohio, will be up for dinner in the next few days.  I hope they too have a chance to talk with you and enjoy a real southern experience. Some meals on vacation are hard to remember, but your's is hard to forget!! I have shared my happy, tasty experience with a lot of friends and I'm sure Janet and Dan will be just the first of many friends who will be coming  your way.  I'm planning my trip to Florida later this year with a route past your place so I can be there again this year!
__________________________
Feb 6th, 2011
Dear Chef Jerome,
I was visiting my sister and brother in law this weekend from MD.  They live in Brunswick and brought me to your restaurant.  Everything from the moment we walked in was exceptional.  Destiny was wonderful.  She took us into the
kitchen to meet you and made us feel like the only customers there. The food was exceptional and the whole experience was "an event" and not just a meal.
Thanks to you for the delicious food and to Destiny for making this Yankee feel at home in the south!
Debbie
__________________________________
Our friend, Lori from Jekyll Island, brought us to the Old School Diner for the first time last week. What a fabulous experience! We had the most delicious dinner and dessert. The service was exceptional!  We have never in all our dining experiences been welcomed so warmly and genuinely as we were at the Chef's! We've requested to have our picture taken, but having the Chef request to have his picture taken with us was a new experience! We look forward to dining again with the Chef and wish that we didn't live so far "up the road" in Indiana and California! 
Mary (from Indiana) and Dave (from California)
December 19, 2010
From the carpets in the driveway to the tables sets and the photos on the wall…Who would not feel at home here?
I was treated to dinner at the diner on 19 December 2010 and to my surprise, we were the only two people there. My date received kudos because it seemed as if the restaurant was opened just for us. Luther Vandross played in the back ground, so we danced on the open floor and then I was served some of THE BEST hushpuppies and shrimp I have ever had.  
The lovelable and huggable Chef Jerome came out to greet me and even allowed me to see where the masterpieces were created. I'm definitely coming back and I'm bringing friends with me!!!  SUPERB!!!
Chloresse
—————————————————————-
12-10-10
Came out tonight for the first time for birthday dinner and had a really awesome time. The food was great and waitresses were great…Jerome is awesome! We will definitely be back again 🙂
—————————————————————————————-
All I can say dem dare georgia shrimp are just beautiful, now im a South Carolina boy born and bred and I aint never had shrimp that good. Thanks Jerome you da best
Chris, Christina, and Miss Scarlett
Charleston SC
—————————————————————————————-
October 10th
Dear Chef Jerome,
We were directed to your diner by a fellow at the Jax Airport upon our arrival.  The next day we meandering up US 17 and 99, just poking around.  
It was out intent to go to Sapelo Island, but had missed the ferry.  We had seen the article in the Southern Living Magazine as well.  So we found ourselves on Harris Neck Road and all I can say is mmmmm mmmmm good!  We made new friends at the diner and the food was absolutely wonderful.  The hushpuppies was a melt in your kind and the tea was sweet!  Looking forward to your catering our conference next year in Glynn County.  
Blessings upon you and OSD.
Rev. Lyn Bell
Waldorf, MD
—————————————————————————————-
October 5th
Dear Chef Jerome,
It was a treat to have a diner as good as yours to be
inviting us to be one of the family. The chicken was out of this world , my wife Mary , she gets heart burn from most food , she did not with yours. 
We will be down once a month ( or more ) to the area for your great and comfy home, this is what mom would of liked.
Joseph and Mary    
—————————————————————————————–
9/5/2010
Dear Chef Jerome,
We drove down from Savannah today after reading about the Old School Diner in Southern Living. You welcomed us and showed me around – love the pictures on the walls and the way the rooms are decorated. Our dinner was wonderful
(fried shrimp and deviled crab) and your staff was very friendly and welcoming. Can't wait to come back!
Donna and Tim
—————————————————————————————–
Just a beautiful and Blessed experience! The food was a wonderful experience.
Chef Jerome and his employees knows how to make a person feel special and at home!!
—————————————————————————————–
June 17, 2010
We visited for the first time last night for a birthday dinner for my sister who recently lost her husband.  I can't even describe the food or the experience.  I don't know whether to tell everybody or try to keep you to myself!  You are by far the best kept secret ever!
Cynthia 
—————————————————————————————–
March 28, 2010
Leaving the Harris Neck Wildlife Center we saw a small hand painted sign that read, OLD SCHOOL DINER. We're pretty adventurous, so we thought we'd stop by.
We drove up to an empty parking lot (save the carpets that covered it). Nobody there, or so it seemed. Then we noticed a large and bearded black man waving us in. Okay.
We pulled on in, got out of the car and received a big hug from said bearded gentleman. We had just met, but I got the sense that we'd met a new friend.
It was only 2:00, so the Old School Diner wasn't opened yet. Our new friend, Chef Jerome took us by the arm and proceeded to give us a guided tour of the establishment.
"Funky" would be the first term to come to mind. "Funky" works for me – fact is, the place reminded me of my own living room.
Chef Jerome told us the diner wouldn't be open until 5:00. We thanked him for the tour and then drove on back to St. Simons Island. Kinda figured we'd be back.
Several hours later spelled dinner time. We could not resist but to get back in the car and make the 38 mile trip back.
We had no idea what the menu would be like. It looked like there was something for everybody. I was torn between the fried shrimp, but was tempted by the smell of barbecue as we entered.
Our friendly waitress recommended the Wheelchair Platter. When we asked what was on the platter, she just said, "a little of this – a little of that".
We ordered the wheelchair platter. To make this already too long story a little shorter, let me say that there was PLENTY of everything! The ribs were every bit as tasty as I knew they'd be. The large Georgia white shrimp were a seafood lover's dream! It was more than we could eat, so we had left-overs to go.
After we finished our meal, Chef Jerome made his curtain call. He took the time to visit each and every table – thanking each diner and giving those sweet bear-hugs to all.
When he came to our table, I told him that he was a magician. He acknowledged my comment, saying that he could indeed perform magic in the kitchen. I blessed him with a quote from the late (great) coach Paul "Bear" Bryant – "it ain't braggin' if you can do it!".
We bid Chef Jerome a fond farewell, with the promise that we will return again. Soon!
Folks, if you find yourself in the area – make the trip to the Old School Diner. If you're not in the area – make a special trip! You'll be glad you did!
"Rusty" and Donna
Birmingham, Alabama
—————————————————————————————–
From The HoughlansMarch 13, 2010
You know its not everyday you get greeted by the Chef. We arrived a little early and he came out and shook our hands and gave the wife a hug and just treated us like long lost friends. This was our 1st time and definitely not our last. The staff and Chef Jerome you guys our the greatest, down home country and seafood all mixed into one it don't get much better than this folks but if you go make sure your HHHHUUUUNNNNGGGGGRRRRYYYY! Once again!!!!!
Chef thanks for the hospitality and Great Food keep up the hard work.
—————————————————————-
From Kelly on Feburary 28, 20210  
Chef you and your staff are really the best.  We ran across you on a super cold night and quickly were taken to a cozy table next to the fire place.  Where we left happy, entertained, full, and treated like long lost family. 
It was such a grand experience that we invited our close friends to spend New Years Eve with us at Old School Diner and we had another unforgettable experience.  The place is artfully decorated with nostalgia and things you have not seen or thought of in years.  It feels like coming home and the food is fresh, delicate and consistantly perfectly cooked.  The ribs are to die for…the fried shrimp, the best I have ever had, the  slaw so crunchy it tastes like it was made to order, and the cocktail sauce is zesty and so yummy.  The food, the treatrment, and the funky going through you grandmothers attic decore makes for a positive that is so refreshing and surprising.  And i almost forgot…you can count on hearing some really cool soul, R&B, or blues playing on the box.  
I can not say enough good things about Old School Diner.  We love going to our home away from home!
—————————————————————-
February 19, 2010
Chef Jerome! 
We LOVED our dinner tonight! We can't wait to bring our friends from VALDOSTA for Karaoke!  Thanks for making our family night so much fun! See you on our next visit!
~The Parks' Girls
————————————————————————–
February 14, 2010
"The food was so delicious the staff was so friendly and manner able I would recommend this place to everyone who wants to dine at a good restaurant. I love this place and the wheel chair platter left me stuffed I really enjoyed myself this place gets 5 stars!
Chef Jerome pat yourself on the back for having a wonderful restaurant as you do. This made my Valentines memorable."
LaDonna and Michel
—————————————————————————————–
November 5, 2009
Sandra  Gant wrote in:
I have visited the Old School Diner it was the dining experience of dining experiences.  Chef Jerome is real. I  admit  that  at first glance I looked at the party I was with and said There is no way I am going in that place and you guys are talking about eating there.  And much to my surprise the experince was amazing as was the food and the atmosphere.  I agree trust your chef. I have talked about the Old school Diner to friends and family. I have never been to a place where though I am quite sure busy the chef  comes out to personally take pictures with and greet the customers or "family" as Chef Jerome says. Chef Jerome is truly an inspiration too those who he has shared his story.
—————————————————————————————–
July 9, 2009
"Let me tell you something—
This is the best seafood restaurant that I have ever been to.  My family and our friends (yes, all 20 of us) ate dinner there tonight and it was the best food that I have ever put in my mouth"…… this is continued on our Blog.
—————————————————————
July 16, 2009
I spoke to Jerome to clear up directions; he said when we arrived to come to the kitchen to say hi because, in his words: "when you get here, you're home." He was right. It's not just the food, which is superb (and plentiful!) but the entire ambiance of the place and the great staff that makes a trip to the Old School Diner something you're not going to forget.
—————————————————————————————————————
August 15, 2009
Fall off the bone ribs!! They were not kidding. Everyone loved them. Grilled shrimp and hush puppies were great also! This was our second visit and we will definitely be back!
Grace
—————————————————————————————–
September 16, 2009 10:39 AM
We were traveling on Mother's day this year and drove all the way from New Orleans and stopped at Jerome's for dinner and the food at Jeromes was better than what we had at some fancy joints in New Orleans. We were the last people there at 10pm and Jerome had been working since 4am that day cooking for mother's day. Jerome was happy to see us, even though he'd been working hard all day!! He said, sit down, relax, you're home now, people. We had fried shrimp and fried flounder and it was hot and fresh- this was the best fried shrimp and fried flounder I have ever had, anywhere!!! Thanks
Jerome…keep doing your thing.